BISO represents the students' academic interests and work for an icnreased focus on sustainability. This is done through various of meeting forums with BI, and we keep a dialog with the students.
Cases we have
got through with BI
Extension of digital lessons
BISO received approval for the extension of digital teaching and streaming courses for the entire school year 21/22. This was important both for infection control, but also for the student's freedom of action.
Changing of the exam format
It is important for BISO that the students receive clarified information about exams as early as possible. This is important for predictability and mastery for the students. We are very pleased that BI went ahead with the exam format in 2022.
Extended deadline for home exams
BISO received approval for BI students to get an extra quarter on home exams to be able to scan and convert any files.
Extended deadline for coursework requirements
On several occasions during the past year, BISO has received approval for changes to coursework requirements. Both in format, deadlines and how many tests required for students to be able to take the exam.
Increased focus on women in finance
BISO works hard to ensure that women in finance receives more focus. The industry is so skewed that it was important for BISO to find ways for this group to have the same opportunities as others.
Opportunity to write a bachelor's degree
The organizational psychology HR and management programme originally had no opportunity to write a bachelor's thesis. It is an important lesson if you are going to write a master's thesis at later time, and BISO thus got through an optional thesis for the next cohorts in the programme.
BISO fights for your case!
it is important to BISO that BI students' voices are heard, and reaches up to the BI administration. The Academics team works to convey what students think to BI's staff and lecturers.
With knowledge, student contact and a place in BI's forums, BISO has the opportunity to improve the academic offerings at our school.
The most iomportant thing, however, is that BISO gets to hear from the students!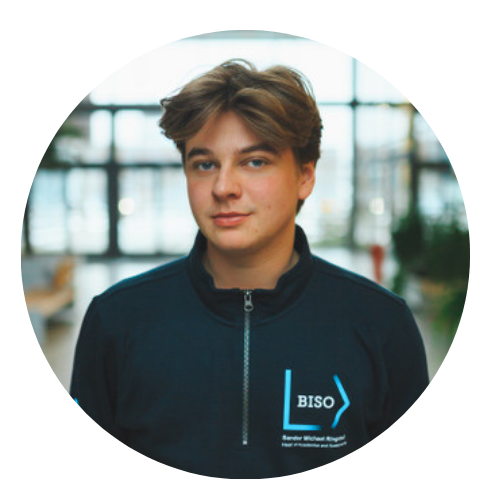 "We want to hear the students' voice, so get in touch if there should be anything about study programmes, exams or other similar questions. We will find an answer."
- Sander Michael Ringstad, Head of Academics and Sustainability, Bergen 2022
Overview of forums BISO takes part in
BI Business School has a programme committee for each program area: Bachelor, Master, Executive and doctorate. Student representatives have a lot to say about study plans, new course descriptions, pedagogy, lectures, class sizes and exam formats.
Learning Environment Committee
The main goal is to ensure the student's influence in the work to create a good professional, physical and psychological learning enviroment. LMU must uncover deviations, put forward proposals for improvement, implement measures and follow them up at all BI's campuses.
The overall purpose of the Student Quality System is to ensure that BI develops high-quality programmes and graduates students in the line with our strategic ambitions.
The BI Senate is the highest decision-making body on academic matters, based on a delegation of authority from the Board. Various confidential matters are discussed here that should not be discussed externally. The senate determines the academic content of the educational offer, rules for admission, exemptions, supplementary rules about certain exams, as well as exams and more.
This is done once per semester. Here are students from academic associations, offices and other "general" students.
Matters that are discussed often deal with exam completion, work requirements, lectures, everyday school life and the student environment.
Sustainability Working Group
BI has established a sustainability group, made up of employees at BI and student representative(s). The purpose is to survey and further develop BI's commitment to sustainability. The students have a direct influence on BI's sustainability work.
Work purposefully, read the target document

ATD is a program of prionciples that sets the direction for what BISO collectively believes. It is approved at BISO's highest body, the National Assembly, and revised by the Academic Forum.